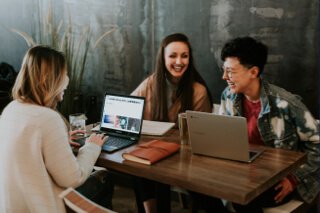 Degree Apprenticeship Courses
Search for Degree Apprenticeship courses
Study at Arden
Develop your workplace skills while you study with a degree apprenticeship from Arden
At Arden you can choose a degree apprenticeship course designed specifically with your workplace development in mind, helping you build real transferable skills for your future.
Our undergraduate and postgraduate degree apprenticeship programmes are perfect if you are currently working and have a supportive employer who is keen to help develop your skills and knowledge.
As you'll be working while you study, you'll continue to gain practical and valuable real-world experience while earning a salary, together with obtaining an internationally-recognised qualification at the end of your course.
Studying for a degree level apprenticeship with Arden will provide you with the skills needed to help boost your value within your industry, as well as offering the opportunity for personal development without putting your life and career on hold.
You can learn more about the different degree apprenticeship courses we have available below.
Read more
You've viewed of courses
Load more
Study your degree while learning on-the-job skills
A degree apprenticeship with Arden is the perfect way to combine university study with the real-world application of the knowledge and skills you gain as you learn with us.
Your qualification will be funded by your employer and the UK Government, meaning that you obtain an Arden degree free of any tuition fees, and with the additional advantage of gaining valuable workplace experience and earning a full-time wage while you study.
Here at Arden, we're experts in delivering qualifications that are built with industry in mind; that's what makes us such a great choice when it comes to degree level apprenticeships. Lots of our courses have industry relevant accreditations, too, helping increase your employability profile.
Find out more about our apprenticeship programmes by reading this brochure.
What is a degree apprenticeship?
The degree apprenticeship programme was introduced by the UK Government in 2015. These qualifications bring together the best of higher education and vocational training and are funded by your employer and the Government. Depending on the course level you choose, degree apprenticeships can take between 2 to 4.5 years to complete.
Why study your degree apprenticeship with Arden University?
A degree apprenticeship will give you real work experience alongside the valuable knowledge and theory gained from studying a degree course. Studying a degree apprenticeship in your chosen profession will help you develop career-focused transferable skills, build your CV, and gain a head-start in your career.
If you're a professional looking to advance your career through further study, Arden has both undergraduate and postgraduate business degree apprenticeships to choose from. You can gain professionally recognised undergraduate business degrees, an MBA with the added bonus of Chartered Management Institute (CMI) accreditation, or study career-specific apprenticeship degrees in health and care or project management with industry accreditation. The courses have been designed to help you graduate with the practical workplace and management skills you need to succeed in your career.
During your apprenticeship, you'll attend Arden while working for one of our partner employers, splitting your time between your work and studies. The advantages of taking this route is that you'll work towards a tuition-free bachelor's or master's degree, gain professional experience, and earn a salary, all at the same time.
Depending on the course you choose, you'll attend monthly face-to-face sessions at one of Arden's regional study centres, completing the rest of your learning online. This will allow you to fit your studies around work and other commitments.
Start your journey with Arden University
Looking for something else?