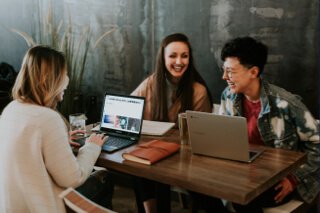 Computing and IT courses
Search for Computing and IT courses and qualifications
Study at Arden
Accelerate your career in computing and emerging technologies with a degree from Arden University
Are you looking to gain the hands-on industry skills that you need for a career in computing? Our industry aligned computing and information technology (IT) degrees are focused on the needs of you as a student, and the skillset needs of your future employers.
Our computing and IT team provide 1:1 support and individualised learning so our graduates have the full 360 degree of skills required by their desired industry. With a number of undergraduate and postgraduate courses available, as well as programmes that are partnered with other departments such as business, students can choose a course that best suits their interests.
A number of our staff have worked in a range of industries and maintain strong relationships with employers to ensure that when you study your computer science course with us, you're at the crest of the latest developments and concepts being put into practice in data analytics, cloud-based technologies, computing, and IT.
Read more
You've viewed of courses
Load more
Choose how you want to learn
At Arden University, we offer you the opportunity to study your way. Want to study your course entirely online from anywhere in the world? Then our online learning courses offer you the chance to do just that. Plus, you'll have the flexibility to create your own study schedule that fits around your personal and professional life when you study your online computer technology course with us.
If you'd prefer to attend lectures and tutorials at one of our study centres in London, Manchester, Birmingham, Leeds or Berlin, then our blended learning courses build in two days a week of face-to-face tuition with your course tutor and classmates, complemented by around 25 hours of online study.
Whichever route you choose, you can continue to work alongside your studies, either full or part-time, to ensure that you don't need to put your life on hold while achieving your qualifications.
Bachelor's courses in computing and IT
If you're just at the start of your career, our computing and IT bachelor's courses provide a comprehensive overview of the core skills you'll need to get your professional life headed in the right direction. With the option to combine your computing degree with courses led by other departments such as business, you can choose the pathway that best suits your ambitions.
Master's courses in computing and IT
For those with already established careers who want to rise to more senior or leadership roles, our master's courses will build upon your hard-won experience and prepare you for a senior role. Covering fields including data management, enterprise architecture, and IT security, you can gain the specialised skills your dream job requires.
Is a degree in computing and IT right for me?Arden University degrees are reviewed quarterly to ensure what you are learning is as up to date as possible and that what you learn meets the specific needs of industry and of you, the student, and we'll help you decide how best to put your degree to use.
If you are looking to start or progress your career, our computing and IT degree course will teach you up-to-date skills that you'll be able to apply to a wide choice of career pathways.
Meet our team of computing and IT lecturers
Our Arden University academic staff have industry experience and work closely with industry partners to ensure you learn practical skills to equip you for the workplace.
The professional and research interests of the team range from data analysis, coding and programming, web development, IT security management, cloud computing, and more.
Start your journey with Arden University