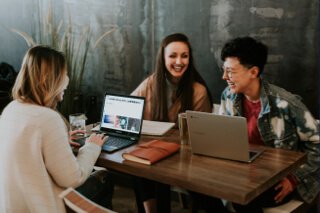 People and Culture (Human Resource Management) Courses
Search for People and Culture (Human Resource Management) courses and qualifications
Study at Arden
Build on your existing people skills to create a rewarding career in the field of people management and recruitment
If you want to be the go-to person in any office environment and have the insights to create a welcoming workplace, getting a degree in people and culture (human resource management) could be the right choice for you.
At Arden University, we develop our degree courses in human resource management with the most relevant and forward-thinking practices so you are prepared to succeed in current and future work environments. Now more commonly referred to as the study of people and culture, we'll help you understand the challenges you'll face today in a human resources position, as well as giving you transferable interpersonal skills you can apply to a range of other professional roles. Getting a degree in human resources is the best way to enter this highly rewarding profession.
We offer bachelor's courses in the study of people and culture which are certified by the Chartered Management Institute (CMI), and our master's degree in this subject is approved by the Chartered Institute of Professional Development (CIPD). These qualifications ensure your degree qualification is held to the latest industry standards, and that you'll be prepared for success in any career path you choose.
Read more
You've viewed of courses
Load more
Choose how you want to learn
At Arden University, we offer you the opportunity to study your way. Want to study your course entirely online from anywhere in the world? Then our online learning courses offer you the chance to do just that. Plus, you'll have the flexibility to create your own study schedule that fits around your personal and professional life when you gain your HR qualification online with us.
If you'd prefer to attend lectures and tutorials at one of our study centres in London, Manchester, Birmingham, Leeds or Berlin, then our blended learning courses build in two days a week of face-to-face tuition with your course tutor and classmates, complemented by around 25 hours of online study.
Whichever route you choose, you can continue to work alongside your studies, either full or part-time, to ensure that you don't need to put your life on hold while achieving your qualifications.

Bachelor's degree in people and culture (human resource management)
If you already know you want to pursue a career in the field of people and culture, or feel that you are truly a 'people person,' a bachelor's degree in human resource management from Arden could be the first step on your career path. Your HR degree will start you on the right track to either begin a career in people and culture, or enter into a wide range of related roles.
Master's degree in people and culture (human resource management)
If you've already established yourself in a career path and want to get a more leadership position, or if you're interested in changing your current field, a master's in human resource management could be the best route for you. Arden has master's programmes which are purely centered around management practices in the area of people and culture, or even a special focus in the field of data analytics. You'll have the flexibility and knowledge to decide what direction you want to go in your career after graduation.
Is a degree in people and culture and HR management right for me?
At Arden University, we regularly review and update our degrees to make sure our learning materials reflect the highest industry standards and current practices.
If you're interested in pursuing a career in people and culture and HR management, or want to brush up on your interpersonal professional skills, an accredited degree from Arden University will give you modern workplace skills and set you up for success in your career.
Meet our team of people and culture and HR lecturers
At Arden University, our academic staff members have contributed greatly to their fields and are passionate about the subjects that they teach. Led by Dr. Kay Maddox-Daines, the lecturers from our School of People and Culture (HR management) are passionate about passing on their knowledge and experience to you to help you achieve success in the professional world.
Start your journey with Arden University