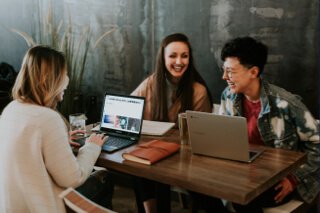 Postgraduate Qualifications
Search for Postgraduate qualifications
Study at Arden
Accelerate your career development with one of Arden's internationally recognised postgraduate degrees
Earning a postgraduate degree from Arden will help you demonstrate a high level of expertise in your area of study, increasing your career, employability, and earning potential.

Explore our postgraduate courses below to start building yourself a brighter future.
You've viewed of courses
Load more
Choose how you want to learn
At Arden University, we offer you the opportunity to study your way. Want to study your course entirely online from anywhere in the world? Then our online learning courses offer you the chance to do just that. Plus, you'll have the flexibility to create your own study schedule that fits around your personal and professional life.
If you'd prefer to attend lectures and tutorials at one of our study centres in London, Manchester, Birmingham, Leeds or Berlin, then our blended learning courses build in two days a week of face-to-face tuition with your course tutor and classmates, complemented by around 25 hours of online study.
Whichever route you choose, you can continue to work alongside your studies, either full or part-time, to ensure that you don't need to put your life on hold while achieving your qualifications.
What is a Postgraduate degree?
Find out if a Postgraduate degree course is the right choice for you
To qualify for enrolment on a postgraduate degree at Arden, you're typically required to hold a second-class UK honours degree (2:2) or equivalent, though we also consider candidates with more than 5 years of relevant work experience. Your postgraduate degree, also known as a master's degree, will help you develop advanced subject knowledge and real-world professional skills through intensive learning, discussion, essay writing, and practical exercises and research.
Why study a Postgraduate degree with Arden?
Depending on the degree course you choose to study, you'll graduate with one of three titles: Master of Arts, Science, or Administration (MA, MSc, or MBA, respectively).
Not only does Arden offer accredited, career-focused, and globally recognised postgraduate degrees, but we also provide two flexible study options, allowing you to fit your learning around your personal commitments. You can choose between studying fully online, or a mix of online and face-to-face classes at one of our study centres.
Start your journey with Arden University