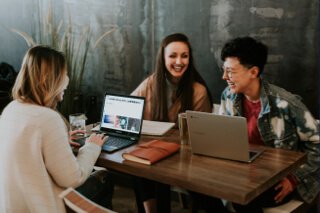 Business and Management courses
Search for Business and Management courses and qualifications
Study at Arden
Secure your career in business and management with a degree from Arden University
Whether you're ready to launch your career in business or are looking to learn the leadership skills you need to inject new life into your current line of work, Arden University has a business and management course that's right for you.
At Arden, we provide a fresh and unique approach to your business and management education. With ideas and experiences taken from employers and thought leaders across the world, you'll have the opportunity to put proven business skills and techniques into practice during your studies. We regularly consult our business and management students to find out how our courses are impacting their lives and careers. We also regularly update our syllabus content to reflect the latest development in business and leadership practices.
Read more
You've viewed of courses
Load more
Choose how you want to learn
At Arden University, we offer you the opportunity to study your way. Want to study your course entirely online from anywhere in the world? Then our online learning courses offer you the chance to do just that. Plus, you'll have the flexibility to create your own study schedule that fits around your personal and professional life when you study your business and management degree online with us.
If you'd prefer to attend lectures and tutorials at one of our study centres in London, Manchester, Birmingham, Leeds or Berlin, then our blended learning courses build in two days a week of face-to-face tuition with your course tutor and classmates, complemented by around 25 hours of online study.
Whichever route you choose, you can continue to work alongside your studies, either full or part-time, to ensure that you don't need to put your life on hold while achieving your qualifications.
Bachelor's courses in business and management
If you're just at the start of your career, our business and management bachelor's courses provide a comprehensive overview of the core skills you'll need to get your professional life headed in the right direction. With degree specialisations covering finance, law, marketing, human resource management, healthcare, and more, you'll gain the specific knowledge you need to enter the industry that inspires you most.
Master's courses in business and management
For those with already established careers who want to rise to more senior or leadership roles, our master's courses will build upon your hard-won experience and prepare you for the challenges of the c-suite. Covering business management fields in areas such as project management, IT, data analysis, engineering, and finance, including an internationally recognised MBA, our postgraduate business management qualifications will challenge you to take control of your career path and secure the success you deserve.
Is a degree in business or management right for me?
Arden University degrees are reviewed quarterly to ensure what you are learning is as up to date as possible and that what you learn meets the specific needs of industry and of you the student, and we'll help you decide how best to put your degree to use.
If you are looking to start or progress your career, a programme in business and/or management sets you up for an endless list of possible career pathways.
Meet our team of business and management lecturers
Our Arden University academic staff have industry experience and work closely with industry partners to ensure you learn practical skills to equip you for the workplace.
The professional and research interests of the team range from business and strategy to corporate social responsibility, agriculture, education, project management, economics and marketing.
Start your journey with Arden University