Arden Online Learning in Numbers
7,400
students currently enrolled on our online courses
95%
of our online students would recommend our online platform
90%
of Arden graduates say their career prospects have been enhanced*
140
countries of origin amongst our online learning student body
Flexible Online Learning Courses
If you're looking to upskill for a future career change or improve your current knowledge, then online learning with Arden allows you to fit study around your life. We're the experts in distance learning, so you'll get an immersive and enriched digital learning experience. Gain an accredited online degree course with tailored support and guidance from expert lecturers.

We offer a variety of adult learning courses that can be studied online, from anywhere in the world.

Learning online gives you the flexibility to tailor your studies around your lifestyle and work commitments.

Studying at Arden means you will receive an accredited degree qualification that is recognised by international employers.

Our lecturers are industry experts with a wealth of knowledge and experience in their chosen fields. You will have a dedicated lecturer who will be on hand to provide support throughout your degree.
Fees for distance learning courses are generally lower than their on-campus equivalents. Plus, with an online degree course, you'll save money on not having to commute or relocate.
Our Online Learning Courses
You've viewed of courses
Load more
Frequently Asked Questions
What online learning courses can you study?
Also known as remote or distance learning
Here at Arden, we have a variety of online courses for adults, from business and law to psychology and health and social care. So, whatever your chosen career path, hobby, or special interest, you can find an online degree course to suit you.
No matter what level of career or education you're at, we have something for everyone. Take a look below at which qualification is right for you and start something exciting with Arden today.
Apprenticeship Degree
This enables you to gain a full undergraduate degree whilst you work, funded by your employer and the UK Government.
Foundation Year Degree
A qualification that adds a foundational year to a normal degree course, for those who need additional support.
Degree Top-up
Build upon your existing Level 5 qualifications (such as a Higher National Diploma, NVQ, or Foundation Degree) to upgrade it to a full degree.
Degree
A traditional undergraduate degree that enables you totake your first step into higher education or a new career.
Postgraduate Certificate
More advanced than an undergraduate degree and at the same level of study as Masters, but shorter in length to complete.
Masters Degree
A postgraduate qualification for those who already have a degree and want to take the next step up in their career.
MBA
A specialist Postgraduate Masters Degree focusing on Business for aspiring managers who already have a degree.
Worried about the cost of online degree courses?
We understand that funding a university degree can be expensive. However, the range of funding options available ensures access to learning online at Arden University is more accessible and affordable for a wider range of students.
Find out more about our costs and financial support by visiting our Fees and Funding page.
What are the entry requirements?
At Arden, we believe that everyone should have access to education. Each of our courses have specific entry requirements. However, if you don't meet the academic entry requirements, we will look at your previous work experience or qualifications to help you get back into education. You can study at Arden, no matter what your circumstances.
Learn more about specific entry requirements on each of the individual course pages.
For further information on how we help you get started with your studies, read our guide on returning to education.
At Arden, we understand that support is vital for ensuring an enjoyable and successful learning experience. That's why we have a dedicated support team who are on hand to listen and offer guidance. Whether you're in need of academic, financial, or personal support, we're here to help, anytime, anywhere. Learn more about the support available on our Student Support page.
We also offer tailored support for those with disabilities. If you require additional support during your studies then contact our Inclusion Services, who will work with you on an individual basis to see what support you need, and put this in place so you can succeed.
Trying to fit studying around your busy life can be difficult. From child care to work schedules, it can be hard to find time for everything. But with Arden, you can take a break from your studies once you've finisheda module. That means you aren't committed to studying for the entire year. We give you the freedom to build studying around your life.
Student Testimonial
Studying at Arden University can open up a world of opportunities from the comfort of your own home. But don't take our word for it. Below are testimonials from previous Arden students who have taken their first steps toward their dream.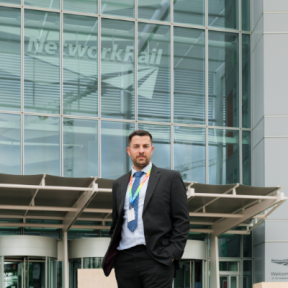 "This knowledge will enable me to progress to more strategic roles in the future.
I've found that studying my MBA online with Arden has given me a much more comprehensive foundation of knowledge around the topics I don't often encounter in my work role, including financial decision-making, ethics and strategy.
Simon Henry
MBA Online