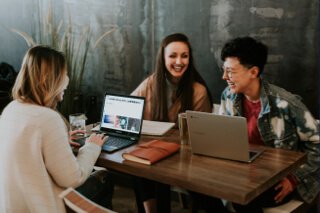 Graphic and Visual Design courses
Search for Graphic and Visual Design courses and qualifications
Study at Arden
Unleash your creativity and hone your design and management skills for a career in the creative industries
Whether you want to get your start in the graphic and visual design industry or study to build upon your existing skills, a graphic design degree from Arden University will launch you towards your career goals.
At Arden University, we nurture our graphic design students' natural creativity and curiosity to shape them into successful and innovative designers. Our bachelor's and master's level courses are created with the most current industry practices, and inspired by the work and practices of leading graphic designers from around the world.
These courses will help you not only hone your technical design skills, but also learn how to promote yourself for work opportunities within the competitive creative field. Our courses are reviewed every quarter to ensure all of our learning materials are as relevant and up-to-date as possible.
Read more
You've viewed of courses
Load more
Choose how you want to learn
At Arden University, we offer you the opportunity to study your way. Want to study your course entirely online from anywhere in the world? Then our online learning courses offer you the chance to do just that. Plus, you'll have the flexibility to create your own study schedule that fits around your personal and professional life when you study your online graphic design degree with us.
If you'd prefer to attend lectures and tutorials at one of our study centres in London, Manchester, Birmingham, Leeds or Berlin, then our blended learning courses build in two days a week of face-to-face tuition with your course tutor and classmates, complemented by around 25 hours of online study.
Whichever route you choose, you can continue to work alongside your studies, either full or part-time, to ensure that you don't need to put your life on hold while achieving your qualifications. Your graphic design course duration will typically be 4 years on a bachelor's degree and between one and two years on a master's degree course.
Bachelor's in graphic design
Whether you're just beginning to learn basic design concepts or already have some design projects under your belt, the BSc Graphic Design from Arden provides you with the core skills and industry knowledge you'll need to pursue your ambitions after graduation. Course content covers essential topics such as design history, layout, illustration and animation, and self-promotion.
Master's in visual communication design
Our master's in graphic design or visual communication design will help you bring your creative talent to the foreground. You'll learn modern disciplines both within and beyond the graphic design industry, gaining additional skills in design studio management and business management. Accredited by the Chartered Management Institute (CMI), this course will show you how to drive innovation design and successful outcomes. You'll become an exceptional problem solver with business skills that are of real value to a broad range of companies across diverse sectors.
Is a degree in visual design right for me?
Arden University degrees are reviewed quarterly to ensure what you are learning is as up to date as possible and that what you learn meets the specific needs of industry and of you the student, and we'll help you decide how best to put your degree to use. Our courses in graphic and visual design give you the opportunity to bring your creative talent to the foreground, while also learning vital modern disciplines in the business side of the industry if this is an area which interests you.
Meet our team of graphic and visual design lecturers
Our graphic and visual design lecturers have years of experience creating their own graphic design works. Led by Cavell-Ord-Simpson, our visual design department serves to inform our students based on their own first-hand knowledge and experience in the industry. Take a minute to learn more about our graphic and visual design staff before you begin exploring our courses.
Start your journey with Arden University