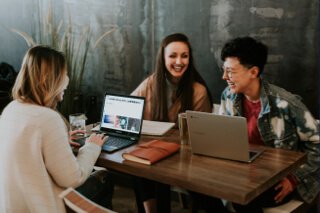 Blended and Online Engineering Management Degrees
Search for Engineering Management courses and qualifications
Study at Arden
Establish yourself as a knowledgeable professional in the field of engineering. Study your degree in engineering management with Arden University.
To get your career in engineering management started, or build upon your existing experience to rise to senior-level positions, a degree in engineering management from Arden University gives you the skills needed to achieve your professional ambitions.
As a university, we are dedicated to guiding our students towards successful and rewarding career paths through challenging and highly informative courses. Our engineering management courses are designed based on modern practices and instil crucial professional skills that can be applied to a range of positions and professional industries.
We offer courses that give you a free membership with the Chartered Management Institute (CMI) during your blended or distance learning engineering degree with Arden. This membership allows you access to additional useful resources that can assist you both with your studies and entering the workforce.
Read more
You've viewed of courses
Load more
Choose how you want to learn
Distance Learning
At Arden University, we've done away with the traditional barriers to higher education. Instead, we empower you to study your way. Want to study for your master's in engineering management online? You 100% can with Arden. Our distance learning engineering degree allows you to study wherever you are in the world. You can build your own learning schedule around your personal and professional life when you study your online engineering course with us.
Blended Learning
Prefer the blended approach to learning – part classroom study, part remote? Our engineering management course can be studied via hybrid learning at our Berlin study centre. Here, you'll be able to enjoy two days a week of face-to-face tuition with your course tutor and classmates. The remainder is covered by around 25 hours of online study.
Study your engineering degree around your schedule
Whether you decide to study engineering management via distance learning or a blended approach, you'll be able to continue to work alongside your degree. Our blended and online engineering management degree can be studied on a full or part-time basis. This means you don't have to build your life around your study schedule – rather you build your study schedule around your life!
Engineering management master's degree
If you've already started your career in engineering and would like to further establish yourself in your field and gain more senior positions within your organisation, a blended or online engineering management master's degree from Arden is right for you. With study topics ranging from sustainability to quality management and data handling, your engineering course will prepare you for the responsibilities of leading within the field.
Is a degree in engineering management right for me?
At Arden University, we regularly review our degree programmes to provide you with the most up-to-date and industry-relevant curriculum possible. With our engineering management degree courses, we place a strong focus on how to manage engineering projects in a global context, so you'll learn how to have a real impact on the structure and success of an organisation. You'll also learn practical skills and understand how to carry out theoretical research, as well as have the chance to complete your own original research project on an engineering project of your choice. This course structure and approach has been designed to bring out your best qualities as a forward-thinking and creative engineering management professional.
Meet our team of engineering management lecturers
Arden's engineering management courses are taught by experienced lecturers from our faculty of business, each with many years of experience in their respective fields. Our engineering management students have the chance to learn skills in operations and supply chain management, project management techniques, business sustainability, risk management quality management, and more - all from a team of professionals who are focused on helping you gain the knowledge and experience you need to succeed in your professional life.
Start your journey with Arden University