What is Online Learning?
Also known as remote or distance learning.
Online learning is home-based remote learning you can take part in at a time that suits you.
It's flexible, accessible, and designed to empower you to boost your career prospects and expand your knowledge. Learn from anywhere in the world – whatever your circumstances.
Whether you're in full or part-time employment, living with a disability, or have children to look after, there are no barriers. Simply the opportunity to unlock your potential.
Study in a way that works for you via distance learning and achieve a respected, industry-recognised qualification with Arden.
Benefits of Online Learning
Flexible online learning hours put you in control. Study around full and part-time employment, during your evenings or weekends, or during school hours if you're a parent.
Take a break when you need to. With our courses you're not committed to studying for an entire year. If you want to take a break once you've completed a module – you'll have the chance to.
You don't have to uproot or commute to fulfil your passion for learning. You can achieve your qualification from the comfort of your own home via the internet.
Worried about whether you can afford distance learning? Our fees are often lower in comparison to regular degrees. We also offer payment plans.
How does Online Learning at Arden work?
It's different to all the ways you've studied before. You're free to study at a pace that works for you. There's no set 9 to 5. So, you can study part-time and complete your course in up to nine years (12 with a Foundation Year). Or even complete your full degree in three years. And you'll have no problems getting to our cloud-based campus, as long as you have access to the internet.
You'll spend most of your studying time on ilearn - our online version of the traditional university campus. It's here you'll learn, achieve and succeed. We provide all the support and study materials you'd get from a traditional degree: high-quality course content, student forums, one-to-one tutor time, etc.
It's everything you'd expect from a university – only it's 100% online.
What about the books, journals and texts you need to support your studies? You don't have to rush to buy them or roam your local library to find them.
Our digital Arden Library has been curated to include everything (and we mean everything!) you'll need for your course. So, that's more than 7,000 eBooks and thousands more journals and resources, instantly accessible online to all of our students.
Want to get a more in-depth idea of how you'll study and be assessed on your course? Find out more on our 'How Will I Study?' and 'How Will I Be Assessed?' pages.
Looking for the part-campus, part-online option? Discover our Blended Learning option.
Why Arden for Online Learning?
Don't take our word for it. Read those of the people who know our distance learning courses best: our students.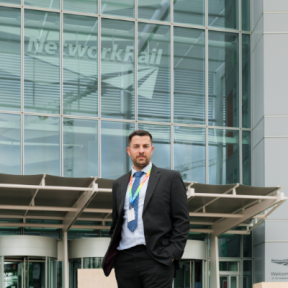 I've found that studying my degree online with Arden has given me a much more comprehensive foundation of knowledge around the topics I don't often encounter in my work role, including financial decision-making, ethics and strategy. This knowledge will enable me to progress to more strategic roles in the future.
Simon Henry
MBA Online
Get Access to Our Student Lounge as Soon as You Enrol
As soon as you've applied to study at Arden you'll get access to our online Student Lounge. This innovative online space offers a helpful tool to help welcome new students, whilst also providing access to a range of valuable resources.
Inside the Student Lounge, you can begin exploring some of our many resources, including our online library containing more than half a million books and journals, our career services portal, and communal areas, in which you can speak with other applicants, current students, and tutors.
Learn more about the Student Lounge in the video: