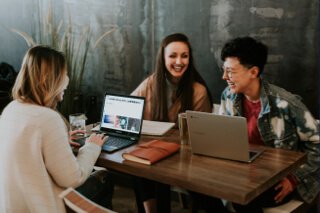 Blended and Online Finance and Accounting Courses
Search for blended degrees in finance, online accounting courses and much more.
Study at Arden
Build your confidence in related topics or level up your existing skills for a strategic promotion with a blended or online degree in accounting and finance from Arden University.
Our blended and online finance and accounting courses have been designed with the highest industry standards and forward-thinking practices in mind. We create our accounting and finance course modules to reflect the critical techniques and skills used today in finance and accounting positions around the globe. This focus on real-world issues ensures that your education is applicable to the positions you'll enter after graduation.
We offer bachelor's and master's courses in accounting and finance that are accredited by professional bodies such as the Chartered Management Institute (CMI) and the Association of Certified Chartered Accountants (ACCA). These professional body accreditations ensure that your education will prepare you for success on your career path, and that the degree you attain will be recognised by leading employers both at home and internationally.
Read more
You've viewed of courses
Load more
Choose how you want to learn finance and accounting
Distance Learning
Here, at Arden University, we look to empower you to study in the way that best suits you. Want to study accounting and finance via distance learning? You have that option with our courses. You'll have access to all the resources you need to succeed, such as tutors, workshops, libraries, etc. – just as you would in a traditional campus setting. Instead, it's all based online!
Wherever you are in the world, with our online finance and accounting courses you'll be able to build your study schedule around your personal and professional commitments – rather than the other way round.
Blended Learning
Prefer to take the more traditional study route – where you attend lectures and tutorials in-person? The blended learning path might just be the one for you. Currently, a couple of our undergraduate finance and accounting courses offer the blended option. They can be studied at any one of our study centres in London, Manchester, Birmingham, Leeds, or Berlin.
Our blended learning finance and accounting degrees consist of two days a week of on-campus tuition, complemented by around 25 hours of online study.
Undergraduate degrees in accounting and finance
Interested in developing a future career in accounting or finance? Our undergraduate accounting and finance courses give you a critical understanding of these fields, while providing you with the tools to develop fundamental professional skills that can be applied in a wide range of careers. All businesses require accounting and financial services of some type in their operations. Gaining a broad range of skills in this area will allow you to explore a truly exciting choice of potential career pathways.
Online master's degree in accounting and finance
If you're already well established in your career and want to further hone your skills for more senior or leadership roles, our online master's in accounting and finance will prepare you for the many varied situations you'll encounter in your role. Our online finance and accounting courses offer programme specialisations including business and data analytics, so you have even more control over the direction of your professional future.
Is a degree in finance and accounting right for me?
Arden University's blended and online finance and accounting courses are reviewed quarterly to ensure what you are learning is as up-to-date as possible and that what you learn meets the specific needs of industry and you the student.

Whether you're just starting out or want to progress upwards in your present career, a degree in finance or accounting from Arden University prepares you for a long list of possible career paths – and we'll help you decide how best to put your degree to use.
Meet our team of finance and accounting lecturers
At Arden University, we strive to find the most professional, passionate, and experienced academic staff members to provide you with the most valuable education possible. Our finance and accounting academics each have years of experience in their field. They can provide you with lots of their own first-hand knowledge of the industry. Find out a little more about our academics before you sign up for your blended or online finance and accounting course!
Start your journey with Arden University