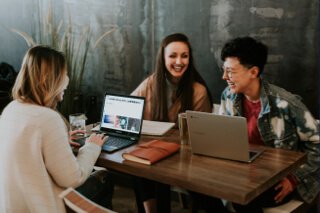 Foundation Year Qualifications
Search for Foundation Year qualifications
Study at Arden
Gain the academic skills you need to succeed at university before starting your degree
Our foundation year degree courses are the perfect choice if you need a little extra support when embarking on your undergraduate degree programme.

Take your first steps into higher education with Arden by checking out our range of foundation year courses below.
You've viewed of courses
Load more
Choose how you want to learn
At Arden University, we offer you the opportunity to study your way. Want to study your course entirely online from anywhere in the world? Then our online learning courses offer you the chance to do just that. Plus, you'll have the flexibility to create your own study schedule that fits around your personal and professional life.
If you'd prefer to attend lectures and tutorials at one of our study centres in London, Manchester, Birmingham, Leeds or Berlin, then our blended learning courses build in two days a week of face-to-face tuition with your course tutor and classmates, complemented by around 25 hours of online study.
Whichever route you choose, you can continue to work alongside your studies, either full or part-time, to ensure that you don't need to put your life on hold while achieving your qualifications.
What is a Foundation Year degree?
Find out if a Foundation Year degree course is the right choice for you
Arden offers a variety of undergraduate degree courses with integrated foundation years, designed to provide you with the support you need to successfully complete a full undergraduate degree. Alongside subject knowledge, foundation year entry degrees give you the opportunity to first develop and refine the basic skills needed for higher level study, covering areas such as academic reading and writing, numeracy, IT, research, presentation, and teamwork.
Why study a Foundation Year degree in the UK with Arden?
This is an ideal degree choice if you've been out of education for some time, don't have the formal entry requirements for an undergraduate degree course but do meet our foundation degree entry requirements, or if you are looking to build your academic confidence ahead of your university studies.
At Arden, we offer you the opportunity to study your way. You can study an online foundation degree from anywhere in the world, or combine online study with face-to-face lectures at one of our study centres.
Start your journey with Arden University