Studying with Arden University Berlin is your gateway to a lifetime of career opportunities
Studying a bachelor's or master's course is a big investment in your future. This means it's essential to find the course and university that will support you in achieving your personal and professional ambitions. Here's our top 10 reasons to choose Arden University Berlin.

---
Reason #1 Recognition
Arden University is recognised by the UK's Quality Assurance Agency for delivering quality education.
Reason #2 Great location
Our campus is situated in central Berlin, close to key corporate players including Sony, Deutsche Bahn, Daimler, and the Axel Springer Media Group.
Reason #3 Flexible schedule
You'll spend two days per week studying face to face classes with us on campus, with an additional 25 hours of online study per week, which means you'll have the flexibility to work and play in Berlin while you progress through your degree.
Reason #4 Student satisfaction
We provide a great student experience, with a student satisfaction rating of 4.2 out of 5 (based on 156 Arden University reviews on whatuni.com)
Reason #5 International cohort
You'll study among a truly international student cohort, with ambitious individuals from around the world.
Reason #6 Academic excellence
You'll be taught by a supportive and dedicated academic team with many years of industry expertise.
Reason #7 Affordable fees
We have affordable course fees with payment plans.
Reason #8 Study in English
All our courses are taught 100% in English, the global business language. Our courses are also accredited by the Chartered Management Institute (CMI) and the Chartered Institute of Marketing (CIM)
Reason #9 Industry skills
We partner with Salesforce, Amazon, and CISCO to offer free industry certifications to ensure you are ready to enter the workforce with the latest industry skills.
Reason #10 We'll help you adjust
We can assist you with finding suitable accommodation in Berlin, and our student support services will help you acclimate to German culture and customs.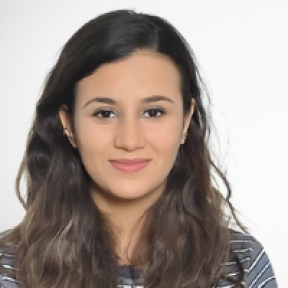 I am an Arden alumni and became a Student Support Officer at Arden Berlin in 2019. I came to Germany in 2018 to study for an MSc Data Analytics and Marketing at the Berlin Campus. My experiences with the Student Support Team were so positive that I decided to join the team after my graduation!
Sarah Bejkkjar
Arden University Berlin graduate
---
Here are some more reasons why Berlin offers great future prospects for people like you
Berlin is the best student city in the world, according to a ranking by TheClassOf2020.
Affordable rents and growth in investment attract entrepreneurial business graduates from across the globe to live, work, and study in Berlin.
While studying with Arden in Berlin you'll be able to work up to 120 full days or 240 half days per year. Find out more here.
University graduates can apply for an 18-month post-study residence permit to explore job opportunities in Germany.
Germany has the 2nd best employment rate in the EU for graduates, at 96.6% (Times Higher Education 2019) and the 3rd best graduate starting salary in Europe at €47,500 (source: consultancy.uk).

---
Oscar Bustillo - Arden University Berlin student

I have enjoyed doing my master's here because it's not like a traditional university where you sit in a classroom and a lecturer talks and you write down everything. I like that when we come here there's actually a discussion and we do a lot of analysis.