Gain the digital skills you need to excel in today's hybrid learning environment
About the School
Arden's School of Digital Education delivers the modern teaching practices you need to thrive in digital education.
The school gives educators the opportunity to enhance their digital teaching practice to meet the evolving needs of 21st century students. Using an industry-led and practice-based learning environment, our students will learn how to apply the latest teaching tools and techniques within any educational setting.
Innovation is at the heart of what we do at the School of Digital Education. Studying with us, you'll acquire a unique portfolio of digital tools and innovative teaching approaches that you can apply to your professional practice.
The COVID-19 pandemic has led to rapid acceleration of digital and hybrid education, bringing it to the forefront of teaching and learning. As a pioneer in online education, Arden University has the credentials to equip you with real-world insight, supporting students in embracing new digital tools and adapting to the changing demands of the sector. Studying with Arden, you'll learn how to use these tools to transform and improve the quality of education from those who do it best.
The school is led and run by an academic team with a wealth of experience in digital pedagogy and are thought leaders in their own sectors. We offer a Postgraduate Certificate in Digital Education in Practice which has been accredited by Advance HE, an innovative new course that aligns with the current and future needs of the sector, ensuring you gain all the skills you need to meet those needs with confidence.
Read more
Faculty in numbers
*This data is based on a Student Satisfaction Survey, undertaken in July 2020.
95% of our graduates said they were satisfied with the Arden University learning experience.
*This data is based on a Student Satisfaction Survey, undertaken in July 2020.
90%
of careers transformed
90% of Arden graduates say their career possibilities have been enhanced by studying with us.*
Study from anywhere online, on campus in Berlin, or at one of our five UK study centres, including three locations in London.
9/10
Alumni are proud to be Arden graduates
In recognition of our continued commitment to our students, we were named number one education business in the 2020 Education Investor Awards.
Faculty staff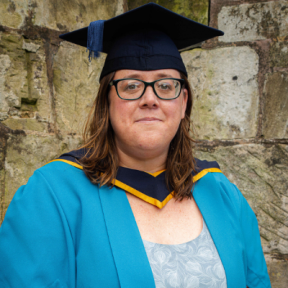 Elizabeth has worked within the higher education sector for more than 10 years, having started her career as a journalist and sub-editor. She worked as an editor and product development manager within professional services at The Open University, developing digital learning experiences for OU students as well as OpenLearn and FutureLearn. She has a passion for critical digital pedagogy and is a champion for student centred design for digital learning. She received her Bachelor of Journalism from Rhodes University in 2003, her MA in Online and Distance Education from the OU in 2018, and has achieved Senior Fellow status of the HEA.
Elizabeth Ellis
Head of School