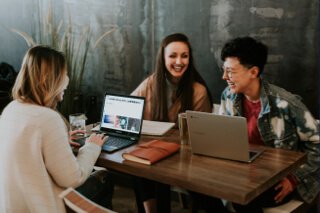 Law and Criminology courses
Search for Law and Criminology courses and qualifications
Study at Arden
Learn the skills you need to pursue a career in law or criminology with a degree from Arden University
Whether you're looking to launch a career as a barrister, solicitor, social worker, civil servant, or are simply interested in the legal and justice system, Arden University has a career focused, interdisciplinary course for you.
You don't need to have a career plan in mind to enrol onto one of our law and criminology degrees. As a whole, these courses allow you to explore elements of the legal system such as, the relationship between crime, society and the law, the political, psychological and social aspects of criminology, and crime prevention, all intertwined with current affairs. By the time you've finished studying law and criminology with Arden University, you'll have developed transferrable critical thinking skills that can be applied to a range of careers.
At Arden, our law and criminology syllabuses are updated on a quarterly basis, to ensure that the subjects you learn about are entrenched in the here and now. This empowers our students to grow their opinions, enter debate, and apply what they learn to contemporary systems.
Read more
You've viewed of courses
Load more
Choose how you want to learn
At Arden University, we offer you the opportunity to study your way. Want to study your course entirely online from anywhere in the world? Then our online learning courses offer you the chance to do just that. Plus, you'll have the flexibility to create your own study schedule that fits around your personal and professional life when you study law online with us.
If you'd prefer to attend lectures and tutorials at one of our study centres in London, Manchester, Birmingham, Leeds or Berlin, then our blended learning courses build in two days a week of face-to-face tuition with your course tutor and classmates, complemented by around 25 hours of online study.
Whichever route you choose, you can continue to work alongside your studies, either full or part-time, to ensure that you don't need to put your life on hold while achieving your qualifications.
Bachelor's courses in law and criminology
If you're just at the start of your career, our law with criminology bachelor's courses provide a comprehensive overview of the core skills you'll need to get your professional life headed in the right direction. With degree specialisations covering law, criminal justice, criminology, and combined degrees with business, psychology, and sociology, you'll gain the specific knowledge you need to enter the industry that inspires you most.
Our LLB (Hons) degree course, which is available at our UK study centres and also as a fully online degree, has been newly updated to reflect recent changes to professional practice qualifications in the UK. This course gives you the opportunity to choose specific degree pathways, such as preparing for a career as a solicitor by opting for course modules that cover the knowledge required for the Solicitors Qualifying Examination (SQE 1). Alternatively, you may want to take a pathway that prepares you for a Bar Practice Course if you wish to qualify as a barrister in the future.
Is a degree in law or criminology right for me?
Arden University degrees are reviewed quarterly to ensure what you are learning is as up to date as possible and that what you learn meets the specific needs of industry and of you, the student, and we'll help you decide how best to put your degree to use.
These courses offer you the opportunity to understand legal systems in the UK and further afield, as well as exploring in more detail topics such as counterterrorism, prison systems, racism, and parole. Whatever mode you choose to study, be that online or on campus, you will develop your academic confidence and critical thinking skills.
Meet our team of law and criminology lecturers
Before getting started with any degree, it's nice to know exactly who you'll be learning from. Arden University's School of Law is led by Dr. Gail Steptoe-Warren, and is staffed by a group of experienced, qualified and enthusiastic lecturers who design our courses alongside industry professionals and with input from our industry partners.
Heading up our foundation year degree courses in law and criminology is Towella Ngambi, who has a wealth of experience in up-skilling individuals to help accelerate their career and personal growth. You can meet some of the other great minds behind this degree by following the link below.
Start your journey with Arden University