Arden online students in numbers
7,400 students currently enrolled on our online courses
95% of our online students would recommend our online platform, ilearn
Students from 140 countries have chosen online study with Arden since 2017
Arden in numbers
*This data is based on a Student Satisfaction Survey, undertaken in July 2020.
95% of our graduates said they were satisfied with the Arden University learning experience.
*This data is based on a Student Satisfaction Survey, undertaken in July 2020.
90%
of careers transformed
90% of Arden graduates say their career possibilities have been enhanced by studying with us.*
Online study lets you decide where, when and how you transform your career.
Online learning, on your schedule
Choosing to study online with Arden University means that a recognised and accredited degree is within your reach – even when attending university in person isn't possible.
Study anywhere: All our courses can be studied online, so you can learn from any location worldwide.
Learn at your own pace: Studying online gives you flexibility to fit your studies around your lifestyle and work commitments.
Value for money: Fees for online learning courses are generally lower than on-campus degrees. Plus, with distance learning you'll save money by not having to relocate to study your degree.
What can you study online with Arden?
Practically anything! All courses offered by Arden are also online degree courses. This means you can choose from business, psychology, health and care management, law, project management, finance and accounting to study online, as well as much more.
When you study an online degree with us, you'll be studying the same high-quality content we deliver to students on campus. That also means the same experienced lecturers, accreditations, support services, and diverse student population.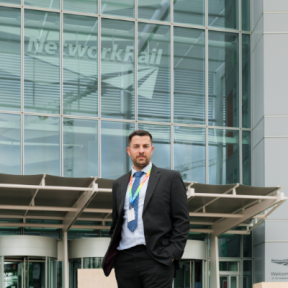 I've found that studying my degree online with Arden has given me a much more comprehensive foundation of knowledge around the topics I don't often encounter in my work role, including financial decision-making, ethics and strategy. This knowledge will enable me to progress to more strategic roles in the future.
Simon Henry
MBA Online
How will you learn?
After you've been enrolled, you'll study your online degree through ilearn, our digital learning platform and university campus in the cloud.
Whether you prefer to study in the evenings after work, at the weekends, or even without a fixed schedule, ilearn will always be online and ready to go when you are. You can read more about everything that ilearn offers below.
How do we support you?
As you work through your course you'll have regular interaction with your lecturers through ilearn. They'll monitor your progress and provide feedback and advice when you need it.
You'll also be able to use our student support services throughout your studies, where you can find help and advice about anything from your course schedule to any personal issues that may arise during your time with us. Click here to find out more about our support services.
ilearn - a real-world university experience in the cloud
ilearn, our university campus in the cloud, contains everything you need to study at university online. ilearn is a complete learning experience available on your computer or tablet, including your virtual classroom, library, diary, assessment centre, lecture theatre, and student common room, all rolled into one.

You'll also be invited to regular course-specific events such as online coffee mornings, webinars, guest speakers and presentations, not to mention skills workshops which you can book online with our dedicated academic skills tutors.
Inside our new Library Portal you'll find an incredible array of over 35,000 journals, almost half a million e-books, and an extensive collection of academic and professional databases for you to take advantage of during your studies.

In fact, our Library portal includes all the key texts you'll need to successfully complete your degree with Arden University, personalised for you at the start of your course with recommended reading lists, all in one easy location.
Career development resources
Once you've enrolled on your course, our online careers centre is easily accessible directly from inside ilearn.

Just a few of the career tools you'll find in the careers centre include:


Interview360, helping you practise your interview technique in a stress-free environment and tackle some of the most common interview questions - as many times as you need to
Hundreds of interactive courses focused on giving you the skills and confidence you need to excel in your professional life.
My Jobs, where you can search employment vacancies, browse employer profiles by location and, or connect with other employees on LinkedIn.
Watch the video below to hear what our students say about online learning
Added flexibility and convenience of online study
No matter where in the world you live, from the UK, to Europe, to Africa, Asia, and the USA, studying online with Arden University couldn't be more convenient.

In fact, there are a whole wealth of additional benefits to studying via online learning. Here are just a few of them:
You can gain an undergraduate degree (bachelor's), postgraduate degree (master's), or Master of Administration degree (MBA) from anywhere in the world through studying online, not just the country in which you live.
You'll be able to take advantage of the latest workplace simulation software, giving your studies a real-world component that prepares you for your future career, available directly from your computer or tablet.
You'll find that an online course with Arden University is often a much more affordable route to getting a degree.
Managing your own online learning schedule will help you acquire vital work and life skills such as time management, prioritisation, schedule planning, and more.
Choose your perfect online degree from our selection of courses below
You've viewed of courses
Load more